Damodar Sekhar, established Panchkot Raj probably during early 90 AD with the help of Sardars of Jhalda and expanded his kingdom over several other parganas. To give recognition to the main five (panch) clans (khunt) of the locals the kingdom assumed the name Panchkot. Panchkot is locally known as Panchet,it was a part of an ancient East Indian kingdom known as

Rajchakla Panchkot. Panchakot Raj was probably a part of Tilakampa Kingdom. Telkupi was the capital of Tilakampa Kingdom and a village under Raghunathpur police station at Garpanchkot (Garh Panchkot), was submerged with the construction of Panchet Dam.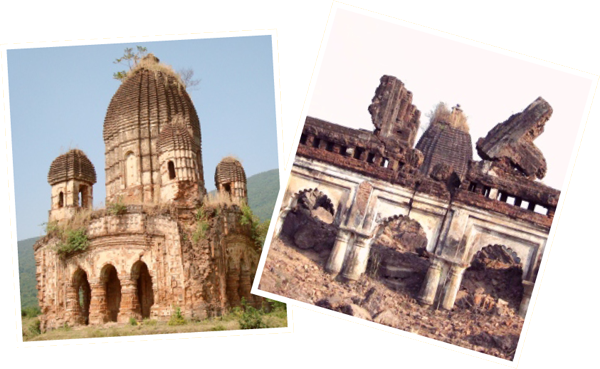 Garpanchkot or Garh Panchkot was a part of the Singh Deo dynasty of Panchkot located at the southern foothills and a group of temples are still standing as mute spectators of the rise and fall of the dynasty. The temples are of different architectural styles, the principal one being a 'Pancharatna' temple accompanied by 'Jor-Bangla' type and more than one 'Pirha' type temples made of stone. The Pancharatna temple still carries some depleted but exquisite piece of presumably pre-muslim period terracotta work on its arches and pillars. 500 meters away and a bit uphill from the main ruins of the Garpanchkot (Garh Panchkot), lies 'Dhara' a perennial spring channeled through a 'Cow mouth' made of stone.