How to Reach (by Car)
A journey of 252 km from Kolkata to Panchet Residency at Garpanchkot (
Garh Panchkot
) by road via Asansol / 25 km from Adra / 19 km from Barakar via Chirkunda 14 km from Kumardubi via Chirkunda / 34 km from Asansol via Disergarh and 65 km from Purulia.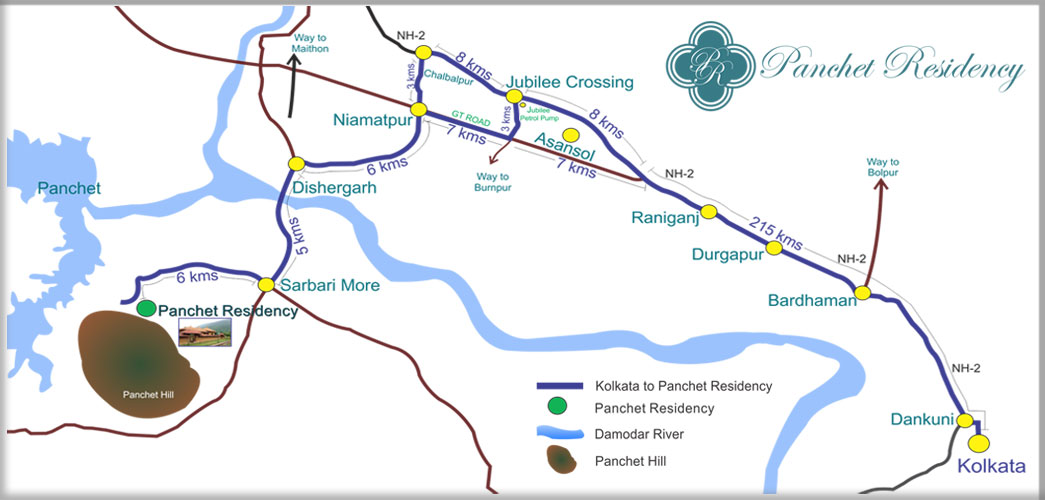 How to Reach (by Bus)
The way to Garpanchkot (Garh Panchkot) by bus can be started from Esplanade (Kolkata). There is a VOLVO Bus service from Esplanade to Asansol. After reaching to Asansol you can avail our pick & drop service to reach Panchet Residency.
For bus schedule please visit www.redbus .in
How to Reach (by Train)
The nearest railway stations from Panchet Residency are Asansol, Adra, Kumardubi and Barakar. From Howrah Station you can avail Black Diamond   Express / Shaktipunj Express / Mumbai  Mail / Coalfield Express / Doon Express. For reference there are few more trains whose numbers are listed below:

Train numbers : 12019 / 12020,  22387 / 22388, 12303 / 12304, 12381 / 12382, 12385 / 12386, 12353 / 12354, 13007 / 13008

For train schedule please visit www.irctc.co.in